Every self-respecting adventure must have its own base camp.

It is the starting point and the point of arrival.

It is the place all climbers pass in order to approach climbing the highest peak. The one you come back to with a story to tell, an emotion, an extra wrinkle on your face.
Discover
We are a hostel and a hotel
The rooms of the hostel
For your holidays in Bormio, the Alpino Hostel offers rooms dedicated to couples and rooms designed for two couples of friends who want to spend a weekend together without sacrificing privacy. But we also have rooms for families and dormitories for groups of friends who want to fully enjoy the hostel experience.
An amazing place to spend your night
Stayed for just 1 night but it was more than enough to describe this hostel as a "must do stop" if you want to spend your night in Bormio. Very clean room with all you need. I promise that I will visit Ostello Alpino once I'll be in the area again. Keep up the good job guys.
Evan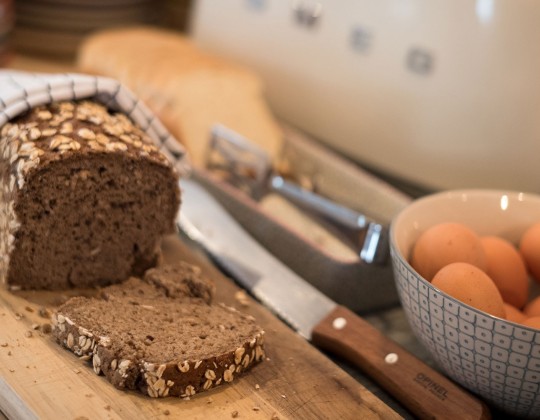 Breakfast
Sweet and savory specialties, served in an Alpine-style setting, to give you the right sprint and to help you to face your days in the mountains in the best possible way.
Details
The universe only makes sense when we have someone to share our feelings with.
Amazing
An absolute gem of a place. Exceptionally clean and very welcoming. We will definitely be back. We stayed in a dorm for 6, we're a family of 5, and it was really lovely. The vibe was very relaxed and nothing was too much trouble. Great facilities and an amazing breakfast, thanks for the vegan options.
Adam
A stay at the top
The Hostel proposes
Live the adventure. Not all those who wander are lost.
Summer
Mountain-bike, trekking, cycling along the river: summer in Bormio is full of relaxation, adrenaline and fun.
Details
Winter
Winter in Bormio is all about skiing, thanks to its cross-country circuit and dozens of km of downhill slopes.
Details
Clean, comfy and friendly hostel
This hostel is a nice getaway in Bormio. It's a clean, fresh and comfy. The rooms are not that big but clean and comfy. Breakfast is very tasteful. The fireplace room is a good place to finish your day with friends or fellow travelers. The staff is very friendly and helpful. So a very good place to go out for skiing, hiking or any sports and relaxation!
Lisanne